The health care experiences of people living in top-performing areas of the country can be dramatically different from those living in bottom-performing areas. On some indicators, the difference is as much as thirteenfold.
Uninsured rates for working-age adults, for example, ranged from 4 percent in Massachusetts localities to nearly 50 percent in Harlingen and McAllen, Texas, in 2014. Despite the broad gains in health coverage, there are still El Paso, TX
Miami, FL
Fort Myers, FL
Corpus Christi, TX
Longview, TX
Tyler, TX
Panama City, FL
Albany, GA
Beaumont, TX
San Angelo, TX
Monroe, LA
Houston, TX
Ocala, FL
Ormond Beach, FL
Houma, LA
Gulfport, MS
Abilene, TX
Odessa, TX
San Antonio, TX
Waco, TX
places in the country, particularly in Texas and the Southeast, where at least one of four working-age adults remains uninsured.
Infant mortality varied more than threefold across regions in 2012–13, ranging from less than three deaths per 1,000 live births in San Mateo and Santa Barbara, Calif. (similar to rates experienced in Norway, which has among the lowest in the world) to more than 10 deaths per 1,000 live births in areas of Mississippi, South Carolina, and Georgia (rates on par with Serbia and China). Local efforts to reduce infant mortality have made a difference in places such as Stockton, Calif., and Grand Rapids, Mich. For a review, see Centers for Disease Control and Prevention, "CDC Grand Rounds: Public Health Approaches to Reducing U.S. Infant Mortality," Morbidity and Mortality Weekly Report, Aug. 9, 2013 62(31):625–28, (website).
Performance varies widely within states.
Striking differences among local areas within states point to additional opportunities for improvement. For example, premature deaths from treatable conditions varied more than twofold across Michigan, ranging from 64 deaths per 100,000 in Traverse City to 142 deaths per 100,000 in the Detroit suburb of Dearborn. View Chart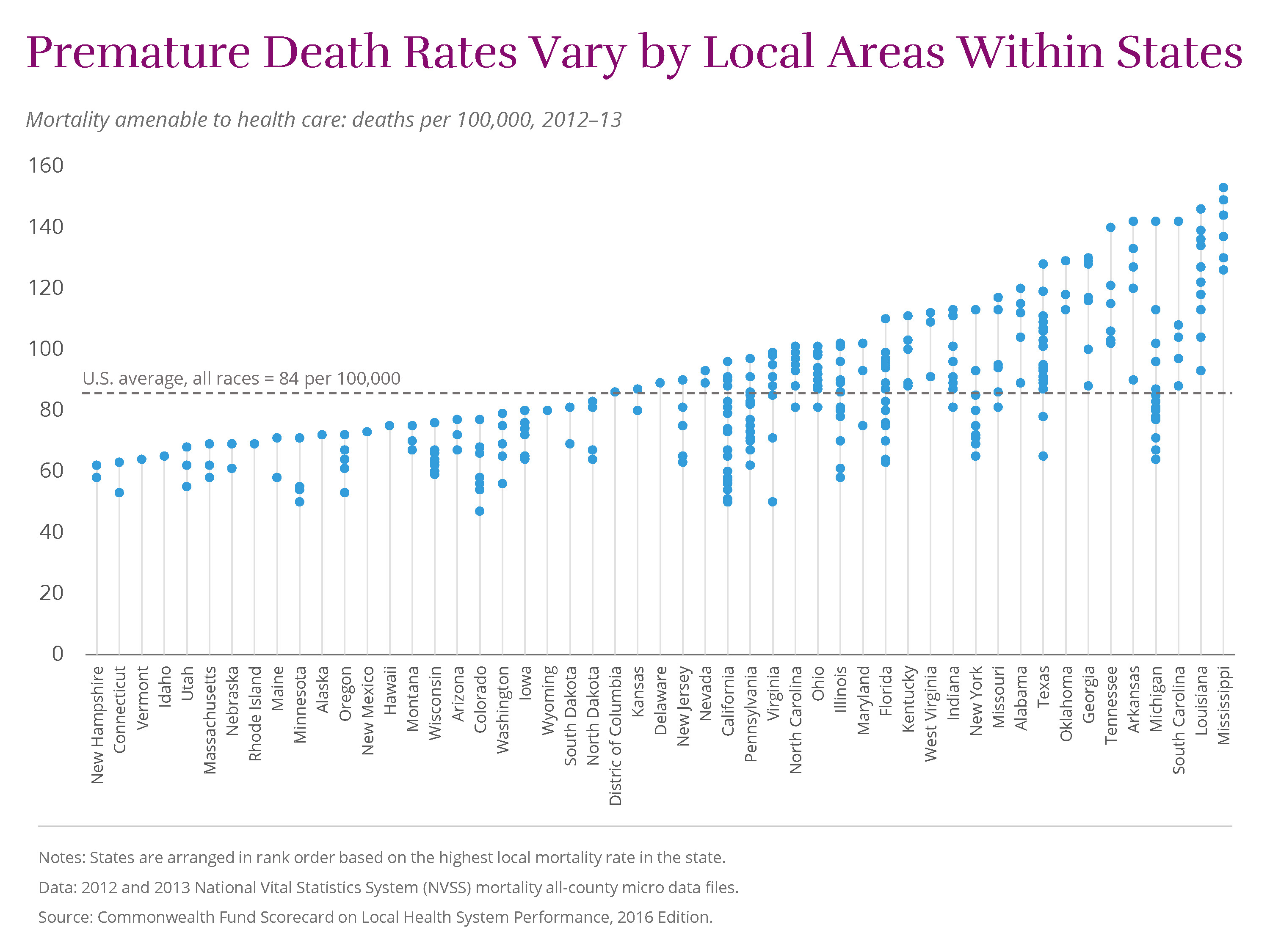 In fact, on most Scorecard indicators, wide variation exists within many large states. In Texas, the share of adults who reported going without needed care because of the cost varied from 12 percent in Temple to 31 percent in McAllen.
Location Profile - Temple, Texas
A Focus on Patient-Centered Care and Patient Safety
While other health systems also have contributed to the health care gains seen in the Temple region of central Texas, Baylor Scott & White Health (BSWH) has undertaken a number of initiatives in recent years that may be helping to move the needle. The nonprofit health system, Texas's largest, runs three of the 10 hospitals in the Temple hospital referral region and provides care for an estimated two-thirds of the 503,000 people who live there.
The Temple area improved on nearly half the indicators that could be tracked over time (16 of 33) in The Commonwealth Fund's 2016 Scorecard on Local Health System Performance.
BSWH's focus on providing patient-centered care may have contributed to improvements in health care access for Temple area residents. In recent years, the health system has transformed its primary care clinics into patient-centered medical homes and introduced same-day appointments for primary and specialty care. The region has experienced a substantial reduction in the number of at-risk adults without a recent routine doctor's visit and increased shares of adults who have a usual source of care and receive age-appropriate vaccines. There also has been a decline in the rate of potentially avoidable emergency department visits by Medicare beneficiaries.
Improvements in hospital safety may have been aided by BSWH's efforts to make performance on patient safety measures a bigger part of physician compensation. Strengthened nursing protocols may have helped as well: nurses now note on huddle boards which patients have complications, such as pressure ulcers, and they make more frequent rounds.
But the Scorecard also revealed gaps in health system performance. Robert Probe, M.D., chief medical officer of BSWH, says three measures he might choose to focus on are adult obesity, avoidable emergency department visits (the region's rate is still high despite improvement), and Medicare beneficiaries' hospital admissions for conditions that can be treated in ambulatory care settings. "As clinicians, we socialize on the criteria for admissions," he says. "While we [clinicians] strive to base clinical decisions on published guidelines, these calls are often influenced by local tradition. But being an outlier with an increased [hospital] admission rate makes me ask, 'Are our practices similar to what's being used around the rest of the country?' "
Robert Probe, M.D., Chief Medical Officer of BSWH, and Glen Couchman, M.D., Chief Medical Officer of BSWH-Central Texas division, generously shared information and insights for this profile.
And in Florida, hospital admission rates for younger Medicare beneficiaries (ages 65–74) for potentially avoidable causes ranged from14 admissions per 1,000 in Sarasota to 46 per 1,000 in Lakeland.
Costs vary for Medicare and private insurance enrollees, even within the same local area.
The cost of health care varies widely between, and even within, local areas. Per-enrollee spending among Medicare beneficiaries in Miami, Fla., the highest-spending region, is more than double that in Honolulu, Hawaii, the lowest-spending region ($13,189 vs. $5,593). In the working-age population with employer-sponsored insurance, per-enrollee spending differences are even greater, ranging from $2,720 (Columbus, Ga.) to $9,362 (Wilkes-Barre, Pa.)— Per-enrollee spending estimates for Medicare and employer-sponsored coverage are adjusted for regional wage differences. Estimates exclude prescription drugs costs, and Medicare estimates exclude extra payments made for graduate medical education. times as much.
Even within communities themselves, there is little relationship, and there are big relative differences, between per enrollee health care spending in employer-sponsored plans and Medicare. View Chart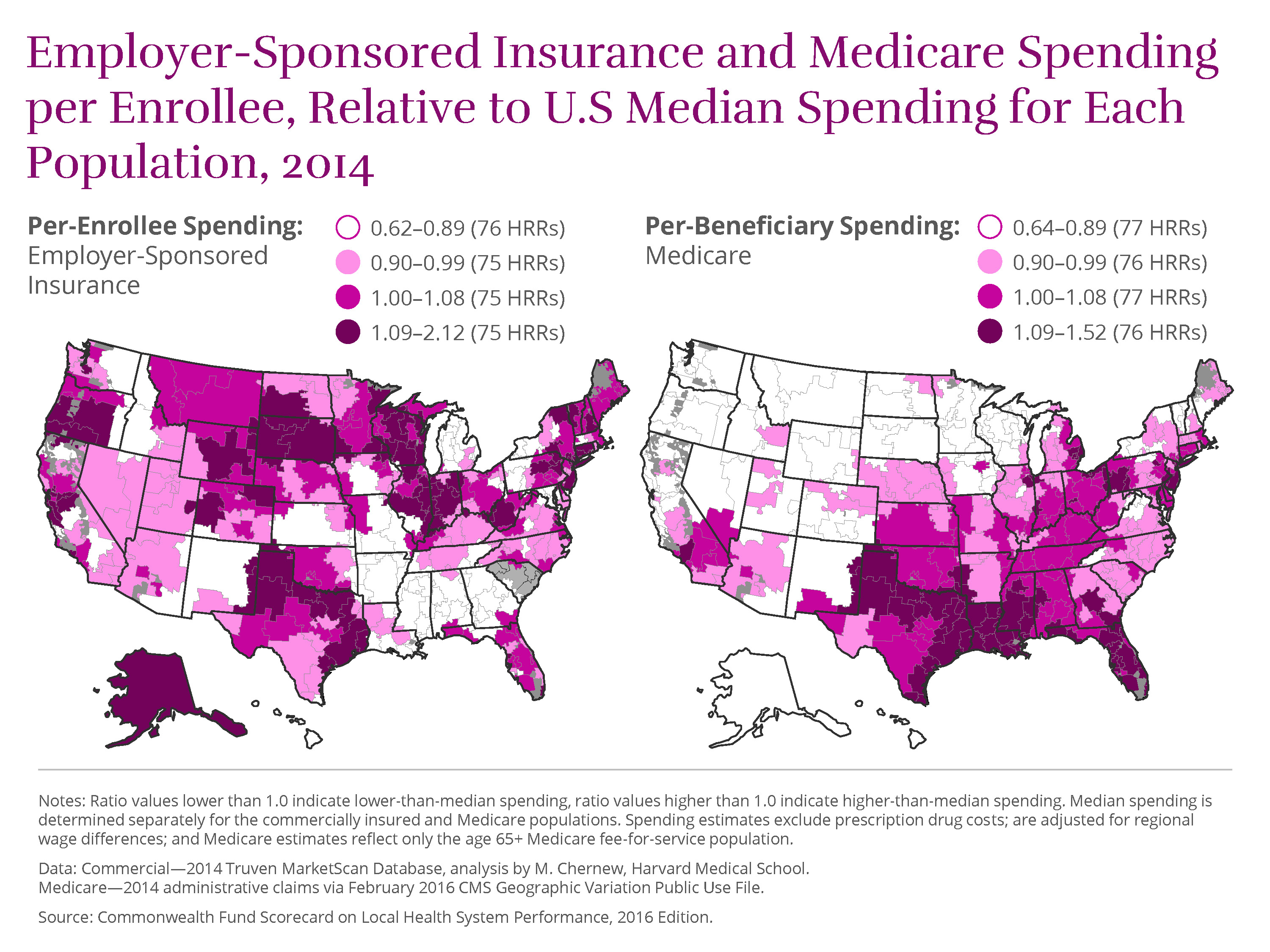 Most areas tend to have relatively high on spending for one population and low on spending for the other. (See Appendix) In fact, only Tucson, AZ
Redding and San Luis Obispo, CA
Honolulu, HI
Boise, ID
Des Moines and Dubuque, IA
Traverse City, MI
Albuquerque, NM
Buffalo and Rochester, NY
Arlington, VA
Spokane, WA areas have relatively low spending per enrollee (in the lower 25th percentile) for both the Medicare and employer-sponsored, commercially insured populations. In Hudson, FL
Miami, FL
Joliet, IL
Gary, IN
Munster, IN
Terre Haute, IN
Camden, NJ
Hackensack, NJ
Newark, NJ
Paterson, NJ
East Long Island, NY
Manhattan, NY
Elyria, OH
Wilkes-Barre, PA
Amarillo, TX
Beaumont, TX
Dallas, TX
Fort Worth, TX
Houston, TX
Lubbock, TX
Tyler, TX
Victoria, TX
Wichita Falls, TX
areas, meanwhile, spending is relatively high for both populations; these areas, mainly in Florida, Indiana, New Jersey, and Texas, are in the upper 75th percentile of spending.
While higher spending is not always an indicator of inefficiency, particularly if it reflects a sicker population with complex health needs, it is not a reliable barometer of the quality of care delivered or better patient outcomes.
Health system experience in the nation's largest cities.
Large cities are the nation's economic and innovation hubs and not surprisingly home to many of the nations' most well-known hospitals and health systems. The largest U.S. metropolitan areas, comprising 53 local areas, account for 45 percent of the nation's total population, highlighting the importance of major cities in driving health system performance. Performance across these communities mirrors patterns seen nationally, with wide variation in urban residents' ability to access affordable care, in the quality of care received, and in health outcomes. (See Appendix) for a summary of health system performance in the local areas making up the nation's largest metropolitan areas.)